SMS & Text Messages Tracking App
A new generation text message spy lets you observe someone's SMS without having their phone in your hands. Just download the software to the cellphone you are going to spy on, activate the application and enjoy your flawless tracking experience. Working in the background, the text watcher message spy can't be detected without special knowledge. It won't be carried out as an established system procedure because it is a basically hidden process.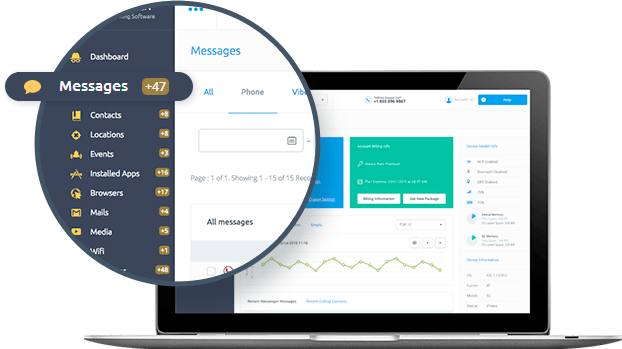 Text Messages Monitoring & Tracking App
Currently, there are lots of instruments to track someone's cell phone activity. One of them is SpyStealth – an advanced text message spy app. Unlike the previous versions of programs of this kind, it provides a subscriber with different useful opportunities, such as:
reading attached information;
detecting some SMS data (number, name, time, date, etc.):
blocking unwanted contacts.
Who can be interested in purchasing an SMS tracking app? First of all, a large part of our audience is represented by solicitous parents. The overwhelming desire to protect their children from unsafe communication leads them to the installation of the Android SMS tracker. Learning contact information, time and date of incoming SMS and receiving data on lots of other activities is as easy as 1, 2, 3! Another considerable part of people who choose mobile spying is company managers. They decide to install SMS tracking app for their staff on iPhone or other devices, for the reason that it eventually leads to optimization of the working process. To achieve this purpose, they buy one of our subscription packages and, subsequently, use an SMS tracker on corporate iPhone or Android devices whenever they want.
SMS & Text Tracking in Details
Would you like to experience text tracking app functioning? Let's follow up simple instructions to activate the program and access its features:
1. Link to our official web-site and buy the SpyStealth software. There are several developed packages depending on your needs.
2. After your payment is confirmed, you will get the Licence Code. Just download the text tracker to someone's Android and activate the program. It takes no more than 2-3 minutes. You need to have the target phone only for several minutes and only once, in order to set up Tracking Service.
3. To start tracking the object's iPhone texting activity whenever desired, you should log into the SpyStealth Control Panel on your PC.
Note: Be careful! Any phone text tracker usage may be treated as the invasion of personal privacy.
SpyStealth is not the only service on the market that provides functions of an SMS spy without a target phone (for non-jailbroken iOS devices only, providing that you have the iCloud account data). Nowadays there are a lot of competitive applications able to help with the texting tracking. Do they provide customers with the same service? The answer is clear: no. Thousands of people prefer SpyStealth to other spy apps for Android and iOS due to the following reasons:
100% practical effect. You are enabled to spy on iOS and Android users in 100 of 100 cases.
an easy way to know the content of the incoming, outgoing or deleted messages;
ability to detect the recipient and the sender;
a useful function of finding out the time and date of texting;
an opportunity to look through all messages even on non-jailbroken iOS devices.
The SMS mobile spy's usage is one of the best ways to prevent real trouble. Some knowledge of what your family members or employees are texting about can prevent business data leaks and unsafe communication between your kids and other people. Just install the SMS spy on someone's Android and all their text messages will get neatly organized in your Control Panel at all times.
Whether to try the SMS spy for Android and iPhone or not is only your personal decision. Definitely, it is an extremely useful program opening new horizons for mobile spying. Thus, using an SMS spy app is a crucial step to be pondered over.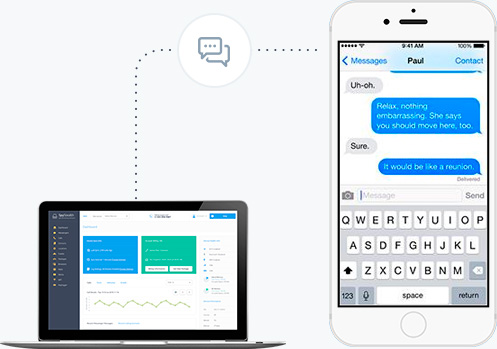 01
Buy The App
All your information is strictly kept confidential and no indication of Spy Stealth on your bill.
02
Install
Just download the application on the phone you want to spy. Its so easy it wont take more than 2 minutes.
03
Login
Log in to your online Spy Stelth user area to view all the information from the spying phone. Yes, it IS that simple!
So what are you waiting for?
We invite you to give SpyStealth a try today!
Free registration