Email Tracking App
Let's face it: almost any modern man has access to the Internet. People use their smartphones to do shopping online, to carry on virtual correspondence, keeping a lot of personal information inside their small and quite expensive devices. There are several reasons for using software for email spying, as well as for tracking other kinds of mobile activity: ensuring children's Internet safety, performing business management, etc. Meanwhile, the best and the most reliable way to do it is to install a ground-breaking app called SpyStealth.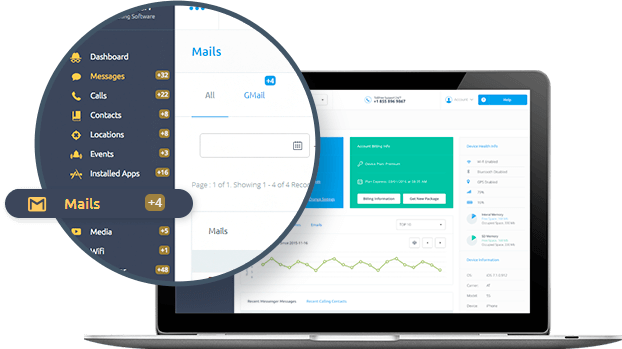 How to Track Emails
These days, there is a great diversity of websites that offer services of email tracking. In fact, some of them are just sharks; others are organizations operating on the basis of outdated and user-unfriendly technologies. None of them can let you spy on someone's email account distantly and anonymously. Is there any other way to remotely snoop on other people with ease? Our developers can assure you that the key to the solution of this issue is SpyStealth.
Everyone, at some point of his or her life, hankers after the idea of using email spy software. Mail tracking is possible for any average PC user, if he or she is able to undertake the following actions:
1. First, you should visit the official SpyStealth website. Here, you can find three elaborated User Plans that certainly comply with your needs. Choose one of them, fill in the form at the checkout page, and read the additional information. To clear up uncertainty about how to spy on someone's email you may consult our skillful customer care managers. They will help you not only to make the right choice but also to configure the program as fast as possible.
2. Next step is getting email instructions and downloading the above-mentioned Gmail tracker to the target device. Then you should activate it by entering the License Code. All the procedure will take less than 1 minute, that's why you shouldn't worry about being suspected. Just install the email tracker once and use our application remotely whenever you want!
3. In order to spy on someone's email, you need to create a SpyStealth account. The sign-up process is quite easy to carry out. After this, log into your Control Panel at any convenient time and track every incoming or outgoing e-mail of your object. Having installed the email spy SpyStealth, you can read all written correspondence of your colleagues or kids.
From this moment, hidden information of others will be within your grasp anytime you need. Remember: nothing is impossible. The best email account spy is waiting for you!
Email Tracker in Details
SpyStealth is the right choice for you if you are concerned about your kid or employee using the cell phone inappropriately. By now you've probably asked yourself a question: how to actually track a cell phone? With SpyStealth phone tracking software the answer is easy to find. Remotely. Nowadays everything is done online and in most cases on mobile devices. Social networking has become a very popular mean of communication, therefore, it is essential for a worried parent to be informed about their kids' social activities.
Thanks you SpyStealth You can even access the logs from a remote location by logging into the site from any Internet web browser. Our 24/7 GPS location tracker allows you to monitor the smartphone anywhere and anytime. View the location in a Real Time!
Install this simple software on an Android or iPhone smartphone that you have appropriate authority to track and possess. GPS call info and SMS logs as well as other tracking information is sent to your private SpyStealth account.
Mobile Phone Tracking can be started in as little as 15 minutes. There is no quicker or easier method to track the smartphone of your kids or employees! Make sure they are safe and sound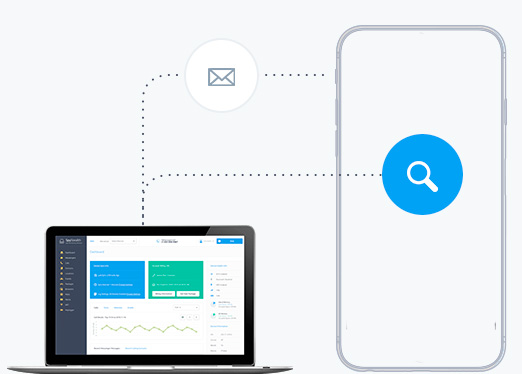 01
Buy The App
All your information is strictly kept confidential and no indication of Spy Stealth on your bill.
02
Install
Just download the application on the phone you want to spy. Its so easy it wont take more than 2 minutes.
03
Login
Log in to your online Spy Stelth user area to view all the information from the spying phone. Yes, it IS that simple!
So what are you waiting for?
We invite you to give SpyStealth a try today!
Free registration