KIK Tracking App
At the present time, almost every person is a smart phone user, and it's common for many people to take it everywhere they go. With unlimited texting, emails and multimedia, it has become something like a treasure trove containing personal information. A couple of years ago, cellphone tracking required frequent direct access to a snooped on device. You can spy on people's KIK remotely today. Find a good moment to install SpyStealth software on the target phone once and use its handy features whenever you want!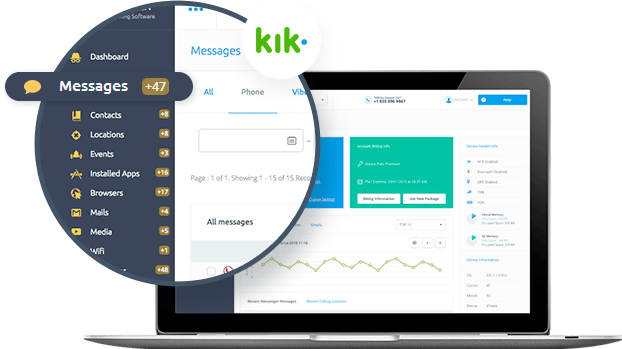 How to Track KIK Messages
If someone is going to spy on the KIK messenger using SpyStealth, what requirements should they fulfill? Essentially, you should have the following:
Physical access to the cellphone belonging to someone you want to spy on.
Reliable Internet connection to download and activate the program.
A phone, tablet or laptop to monitor the cellphone activity.
If all the abovementioned things are at the reach of your hand, you are probably intending to install SpyStealth – the best spy KIK app for iOS and Android. And the first thing you should do is purchase the mobile application. For this purpose, you should visit our official web-site and choose one of the available customer packages. Have you got any questions about our Android KIK spy? Ask our highly qualified managers to provide you with all comprehensive information. They will help not only to settle on a suitable plan, but to make a payment or install the app properly and swiftly.
Do you wish to know how to spy on someone's KIK? Just download the program to the target cellphone after purchasing and activate it by entering the License Code! Only two minutes – and you get the ability to track KIK's messages, files and that sort of things whenever you want.
To use SpyStealth, you should log into your Control Panel anytime you are going to spy on someone's KIK. The above-mentioned program has the feature of observing other instant messengers activity and previous browsing history as well.
KIK Messages Tracker in Details
By the term "messenger" modern society usually means some kind of a chat. However, a true data-exchange network is actually entailed here. It needs to be said that, presently, the messenger definition is not linked to electronic messaging only, as it used to be before. Modern messengers have become full-fledged communication centers. It turns out that a common modern instant messenger generally provides not only user-to-user text messaging but also visual and voice communication, and even web conference services.
Our pioneering KIK spy tool app SpyStealth has got a variety of useful features:
Access to all kinds of texting. Are you willing to spy on someone for a long unlimited period of time? The newest spy KIK app keeps you up to date on every single word. Just download our special software to your target's device and use its functionality at a will!
All photos and videos are right before your eyes. Are you worried about keeping company's sensitive information in secret or your child's online safety? Spy on people's KIK with SpyStealth and access every multimedia file they send or receive.
Tracking retrospectively. If you did not have a chance to look through someone's chat yesterday, never mind! Our Android KIK spy provides the access to the previous browsing history or texting. Just log into your Control Panel and track every virtual step of your target!
Note: Please check your local laws before installing SpyStealth on someone else's phone without their knowledge. Illegal use of spy KIK apps can be treated as a penal action.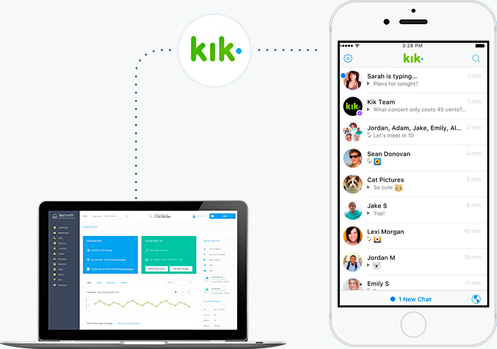 01
Buy The App
All your information is strictly kept confidential and no indication of Spy Stealth on your bill.
02
Install
Just download the application on the phone you want to spy. Its so easy it wont take more than 2 minutes.
03
Login
Log in to your online Spy Stelth user area to view all the information from the spying phone. Yes, it IS that simple!
So what are you waiting for?
We invite you to give SpyStealth a try today!
Free registration